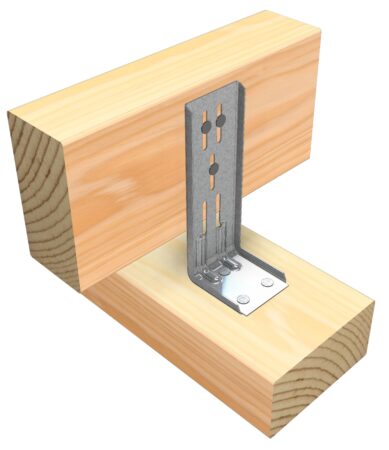 Bracket which stabilises internal, non-load bearing walls from bottom chords of trusses
Uses
Bracket which stabilises internal, non-load bearing walls from bottom chords of trusses
Features
VERSATILE: Pryda Hitch has built in slots which allow for vertical movement in the truss over time without transferring load to the wall.
These slots cater for some vertical movement of the wall due to foundation settlement, without inducing forces on the truss.
Installation
For application and design capacity information, refer to the Pryda Connectors & Tie Down Connectors Guide.
Pryda Hitch – Internal Wall Hitch
| Product Code | Size |
| --- | --- |
| PHH | Coined 114 x 46 x 38 x 0.8mm |
| PHL | Plain 100 x 44 x 36 x 1.2m |
| PHS | Super Heavy Duty Plain 130 x 50 x 47 x 2.0mm |
Merchant Packs – individually bar-coded
| Product Code | Size |
| --- | --- |
| MPPHH | Coined 114 x 46 x 38 x 0.8mm |