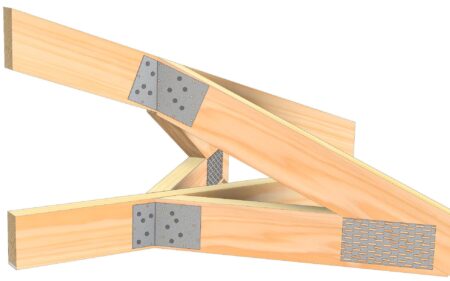 The easy way to connect creeper trusses to hip trusses
Uses
Pryda Mitre Plates are used for connecting creeper trusses to hip trusses
Features
FAST: Pre-bent to suit common 45 degree angle connections on both the bottom and top cord.
STRONG: 1.0mm G300 Galvanised Steel.
VERSATILE: Can also be used with rafters and come with a left and right hand version to pick up the creeper from both sides of the hip.
Installation
For application and design capacity information, refer to the Pryda Connectors & Tie Down Connectors Guide.
Pryda Mitre Plates
| Product Code | Size |
| --- | --- |
| MT | 78 x 126mm bent 45deg |
| MT15 | 78 x 126mm bent 45deg. Skew Left and Right |