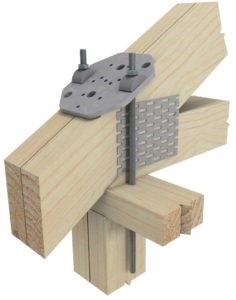 To resist extreme tie-down forces
Uses
Pryda High Capacity Tie Down Kits are used for extreme tie-down situations, typically encountered with girder trusses in cyclonic areas.
Features
Kit provides applicable components to make installation an easier task.
Suitable for internal and external use.
Installation
For application and design capacity information, refer to the Pryda Connectors & Tie Down Connectors Guide.
Pryda High Capacity Tie Down Kits
| Product Code | Size |
| --- | --- |
| HCTD | 150 x 150 x 8mm (each kit complete with 10 kits of 1 x HCTD plate & 2 x washers) |
| HCTD/WA | 150 x 150 x 8mm (each kit complete with 1 x HCTD Plate, 2 x over washers, 1 x under washer, 2 x M12 x 250mm threaded rod & 4 x Nylok® nuts) |