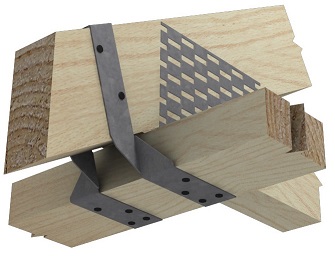 A simple, efficient, tie down with greatest design capacity.
Uses
Pryda Cyclone Straps are used primarily in cyclonic areas for tying down purlins to trusses or roof trusses or other roof members to the wall frame.
Features
Pryda Cyclone Straps are quick and easy to install.
They are designed to have sufficient capacity for many cyclonic area uses, and can be "doubled up" for twice tie-down capacity. Maximum design capacity is determined from Pryda tests.
A range of lengths are available to suit different nailing and capacity requirements.
Application
For application and design capacity information, refer to the Pryda Connectors & Tie Down Connectors Guide.
Pryda Cyclone Strap 1.0mm
| Product Code | Size |
| --- | --- |
| QHS4 | 400 x 32mm |
| QHS6 | 600 x 32mm |
| QHS9 | 880 x 32mm |
Pryda Cyclone Strap Unpunched
| Product Code | Size |
| --- | --- |
| QHS6U | 600 x 32mm |
| QHS9U | 880 x 32mm |
Pryda Cyclone Strap 1.2mm
| Product Code | Size |
| --- | --- |
| QHS9/2 | 880 x 32mm |
Merchant Packs – Individually Bar-coded
| Product Code | Size |
| --- | --- |
| MPQHS4/2 | 400 x 32mm |
| MPQHS6 | 600 x 32mm |