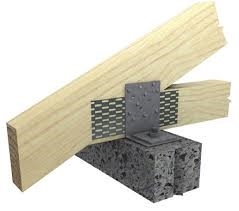 CPB is especially designed for fixing into blockwork.
Uses
CPB bracket is commonly used as an anchorage into blockwork, but is also suitable for fixing into timber or steel frames.
Features
Pryda CPB Bracket provides an alternative hold-down bracket, for high capacity tie-downs.
This bracket is also useful to achieve a concealed connection.
Installation
For application and design capacity information, refer to the Pryda Connectors & Tie Down Connectors Guide.
Pryda Roof to Block Bracket
| Product Code | Size |
| --- | --- |
| CPB | 131 x 86 x 73 x 3mm |