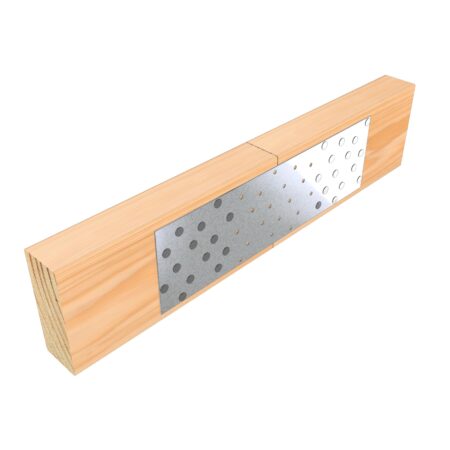 A heavy duty pre-punch Nail-on plate to form various types of timber joints
USES
FEATURES
EASY: Pre-punch holes ready for onsite application using nail fix or screw fix.
FAST: Simply select the correct plate size and type, place into position, and fasten through the pre-punched holes to suit design application.
VERSATILE: Can be used for joining trusses on-site that have been made in parts in the factory. Fixing trusses to poles. Any heavy-duty timber connection where a Knuckle nailplate will not suffice. Joining beams. Repair work over existing fixings.
Application
For application and design capacity information, refer to the Pryda Timber Connectors Nailplates Guide.
Pryda Nail-on Plates 1.0mm
| Product Code | Size |
| --- | --- |
| NPA75/125 | 75 x 125mm |
| NPA75/190 | 75 x 190mm |
| NPA75/250 | 75 x 250mm |
| NPA75/315 | 75 x 315mm |
| NPA75/380 | 75 x 380mm |
| NPA100/190 | 100 x 190mm |
| NPA150/250 | 150 x 250mm |
| NPA150/315 | 150 x 315mm |