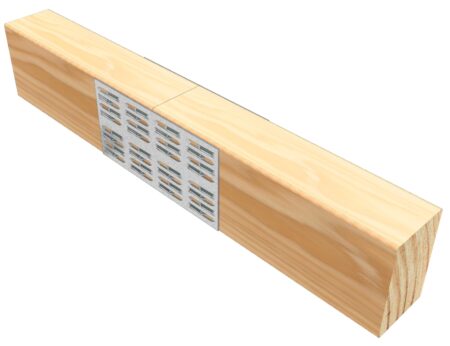 Hammer fixed and easy to use connector for multiple applications
Uses
Pryda Knuckle Nailplates are galvanised steel connectors with in-built, bent-up "knuckle" nails. These plates are ideal for many structural and non-structural timber jointing and timber protection uses.
Among the many uses of Knuckle Nailplates, the most common are jointing of wall frames together on-site, on-site splicing of timber beams, reinforcement of corners of boxes and bins, and reinforcement of bolted joints (eg Cable Truss)
Features
EASY: Can be installed without any special gear or nails, only a hammer is required for install.
FAST: Hammer the knuckles and you are done.
VERSATILE: Multiple Applications from timber jointing, splicing, reinforcement and impact resistance.
Application
For application and design capacity information, refer to the Pryda Timber Connectors Nailplates Guide.
Pryda Knuckle Nailplates 1.0mm (33mm wide)
| Product Code | Size |
| --- | --- |
| TP4R4 | 33mm wide x 127mm |
| TP6R4 | 33mm wide x 190mm |
Pryda Knuckle Nailplates 1.0mm (38mm wide)
| Product Code | Size |
| --- | --- |
| MP4R5 | 38mm wide x 127mm |
| MP6R5 | 38mm wide x 190mm |
Pryda Knuckle Nailplates 1.0mm (67mm wide)
| Product Code | Size |
| --- | --- |
| MP4R8 | 67mm wide x 127mm |
| MP6R8 | 67mm wide x 190mm |
| MP8R8 | 67mm wide x 254mm |
Pryda Knuckle Nailplates 1.0mm (76mm wide)
| Product Code | Size |
| --- | --- |
| MP2R10 | 76mm wide x 63mm |
| TP3R10 | 76mm wide x 95mm |
| MP4R10 | 76mm wide x 127mm |
| MP6R10 | 76mm wide x 190mm |
| MP8R10 | 76mm wide x 254mm |
Pryda Knuckle Nailplates 1.0mm (134mm wide)
| Product Code | Size |
| --- | --- |
| MP4R16 | 134mm wide x 127mm |
| MP6R16 | 134mm wide x 190mm |
| MP8R16 | 134mm wide x 254mm |