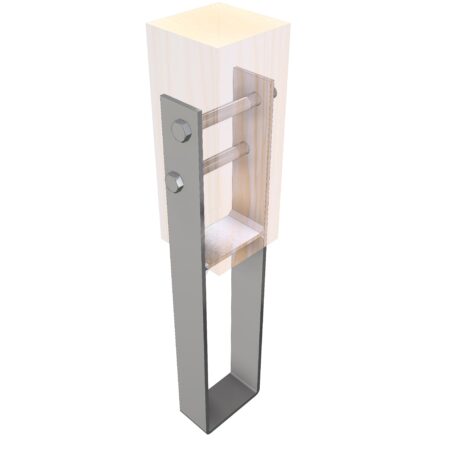 Engineered for high wind areas, including tropical regions
Uses
The U-shape base of the Pryda High Wind Post Anchor is engineered for maximum hold-down in wet concrete.
Features
STRONG: The U shape base is designed for maximum hold-down in concrete.
VERSATILE: A large range of sizes to suit both post widths and base lengths.
STRONG: Hot dip galvanised coating after manufacture and made from 5mm steel.
Application
For application and design capacity information, refer to the Pryda Post Anchors Guide.
Pryda High Wind Post Anchors Hot Dip Gal – 5 mm Steel
| Product Code | Size |
| --- | --- |
| PSQ45090/12 | 450 x 50mm for 90mm post |
| PSQ450100/12 | 450 x 50mm for 100mm post |
| PSQ60090/12 | 600 x 50mm for 90mm post |
| PSQ600100/12 | 600 x 50mm for 100mm post |
| PSQ600125/12 | 600 x 50mm for 125mm post |
| PSQ600150/12 | 600 x 50mm for 150mm post |