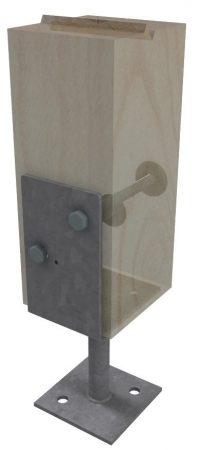 Ideally suited to applications when the post can only be bolted from one side
Uses
Ideally suited to uses where the post is located against a wall or step and can only be bolted from one side.
Features
Can be bolted to existing concrete or decking or set into concrete.
The 25mm stem has been welded to the 4mm stirrup to provide both support to the structure and resistance to uplift forces.
The stems are sealed to prevent the unseen entry of termites to the post, while the Hot Dipped Galvanised anti corrosion treatment provides the protection to comply with the building code performance criteria.
All joints are welded.
Compliant to Australian standards and the Australian National Construction Code (NCC).
Application
For application and design capacity information, refer to the Pryda Post Anchors Guide.
Pryda Half Stirrup Post Anchor Hot Dip Gal – 4mm Steel, 25mm dia stem
| Product Code | Size |
| --- | --- |
| PSHS65 | 65mm leg Half Stirrup |
| PSHS130 | 130mm leg Half Stirrup |
| PSHS200 | 200mm leg Half Stirrup |
| PSHS300 | 300mm leg Half Stirrup |