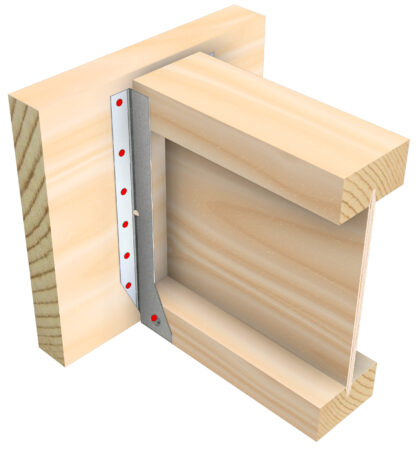 Simple means of connecting an I-Joist member at 90° to either a timber or metal beam
Uses
A broad range of sizes for use with face mounted connections for I-Joist to timber beam support.
Features
VERSATILE: Multiple sizes available to cover all common I-Joist sizes.
EASY: Comes with the fasteners required, including screws to prevent squeaking.
STRONG: 1.2mm thick galvanised steel for the full depth of the I-Joist. Engineered to resist gravity loads and lateral movement of the I-Joist flanges.
Application
For application and design capacity information, refer to the Pryda Hangers & Truss Boot Guide.
Face Mounted
| Product Code | Size |
| --- | --- |
| LF235/40 | 41 x 237mm |
| LF297/40 | 41 x 297mm |
| LF190/45 | 46 x 189mm |
| LF240/45 | 46 x 235mm |
| LF300/45 | 46 x 297mm |
| LF235/50 | 52 x 232mm |
| LF297/50 | 52 x 297mm |
| LF240/53 | 53 x 240mm |
| LF300/53 | 53 x 300mm |
| LF240/60 | 60 x 240mm |
| LF300/60 | 60 x 300mm |
| LF340/60 | 60 x 343mm |
| LF235/65 | 65 x 235mm |
| LF290/65 | 65 x 290mm |
| LF340/65 | 65 x 340mm |
| LF235/70 | 70 x 235mm |
| LF290/70 | 70 x 290mm |
| LF400/70 | 70 x 400mm |
| LF235/90 | 90 x 235mm |
| LF290/90 | 90 x 290mm |
| LF350/90 | 90 x 350mm |
| LF220/105 | 105 x 220mm |
| LF235/120 | 120 x 235mm |
| LF290/130 | 130 x 290mm |
| LF235/140 | 140 x 235mm |
| LF290/140 | 140 x 290mm |
| LF235/180 | 180 x 235mm |
| LVSIA | 75 x 50 x 5 x150mm |