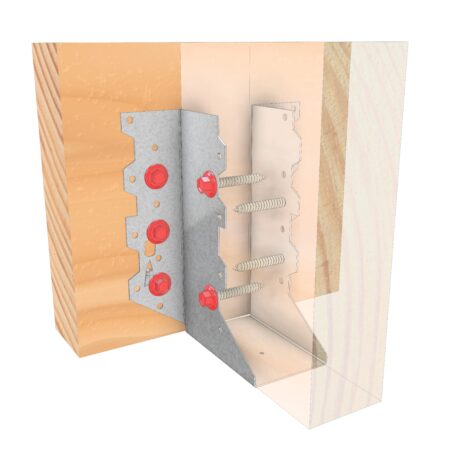 Simple means of connecting two members at 90° that provides resistance to gravity and uplift loads
Uses
Pryda Joist Hanger range is suitable for beam-to-beam connections, floor or roof trusses to supports connection, right angle joints, carport, deck, gazebo, or pergola construction.
Features
EASY: Can be installed without needing to create special housings or high skill timber joints.
FAST: Can be fastened with Pryda WTF12-35mm screws.
STRONG: 1.0mm thick galvanised steel engineered to resist gravity loads and wind uplift loads as well as lateral rotation.
Application
For application and design capacity information, refer to the Pryda Hangers & Truss Boot Guide.
Product Sizes
**The Knuckle nail inclusion for the entire stainless steel range and framing hangers over 50mm will be available in 2022
Size – 60mm depth
| Product Code | Size |
| --- | --- |
| MPFBK3860 | 38 x 60mm |
| MPFBK5060 | 50 x 60mm |
Size – 90mm depth
| Product Code | Size |
| --- | --- |
| FBK3590 | 35 x 90mm |
| MPFBK3590 | 35 x 90mm |
| FBK3890 | 38 x 90mm |
| MPFBK3890 | 38 x 90mm |
| FBK4590 | 45 x 90mm |
| MPFBK4590 | 45 x 90mm |
| MPFBK5090 | 50 x 90mm |
Size – 120mm depth
| Product Code | Size |
| --- | --- |
| FBK35120 | 35 x 120mm |
| MPFBK35120 | 35 x120mm |
| MPFBK38120 | 38 x 120mm |
| FBK45120 | 45 x 120mm |
| MPFBK45120 | 45 x 120mm |
| MPFBK50120 | 50 x 120mm |
| FB62120** | 62 x 120mm |
Size – 140mm depth
| Product Code | Size |
| --- | --- |
| MPFBK35140 | 35 x 140mm |
| MPFBK38140 | 38 x 140mm |
| FBK45140 | 45 x 140mm |
| MPFBK45140 | 45 x 140mm |
| MPFBK50140 | 50 x 140mm |
Size – 180mm depth
| Product Code | Size |
| --- | --- |
| FB62170** | 62 x 170mm |
| FB65170** | 65 x 170mm |
| FBK35180 | 35 x 180mm |
| MPFBK38180 | 38 x 180mm |
| FBK45180 | 45 x 180mm |
| MPFBK45180 | 45 x 180mm |
| MPFBK50180 | 50 x 180mm |
Size – 220mm depth (FB22)
| Product Code | Size |
| --- | --- |
| FB70200** | 70 x 200mm |
| FB84200** | 84 x 200mm |
| FB90200** | 90 x 200mm |
| MPFBK45220 | 45 x 220mm |
| MPFBK50220 | 50 x 220mm |
| FB62220** | 62 x 220mm |
Pryda Longreach Floor Truss Hangers
| Product Code | Size |
| --- | --- |
| FB72163** | 70 x 160mm |
| FB94152** | 90 x 150mm |
Stainless Steel Range
| Product Code | Size |
| --- | --- |
| MPFB3590/SS** | 35 x 90mm |
| MPFB4590/SS** | 45 x 90mm |
| MPFB45120/SS** | 45 x 120mm |
| MPFB45140/SS** | 45 x 140mm |
| MPFB45180/SS** | 45 x 180mm |
| MPFB4590/SS** | 45 x 90mm |