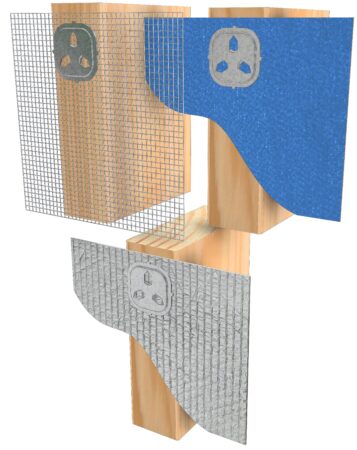 A non-tear economical fixing for foil insulation and shade cloth
Uses
A versatile fixing solution for Wall and Roof Insulation, Privacy Screens, Shade Cloth, and Hot House Covering.
Features
EASY: Simple and effective design.
FAST: Fixed with pre-punched nails. No additional fasteners required.
VERSATILE: A simple and economical method of fixing building foil insulation to timber framing, roof insulation to trusses or rafters, enables quick and efficient installation of netting on privacy screens, and shade clothes to timber framing. It holds the insulation foil securely and prevents tearing.
Installation
For application and design capacity information, refer to the Pryda Brackets & Fixes and Builder's Hardware Guide.
Pryda Fix (30 x 30mm)
| Product Code | Size |
| --- | --- |
| SFI | 50 strips of 5 – zinc |
| MPSFI | Pre-packed 30 x 30 x 0.8mm (7 x 10 strips of 5- zinc) |