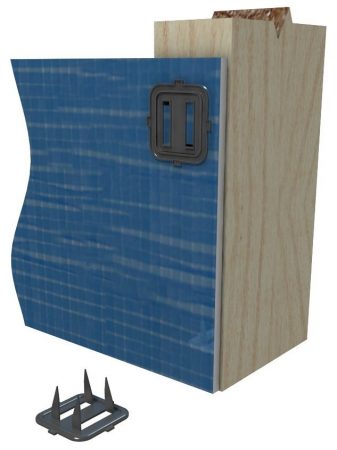 Non-tear fixing of sheet insulation
Uses
Pryda Foil Fix is an ideal connector for fixing building foils to timber framing.
Features
Adaptability – Foil fix can be used to fix foil insulation to both wall and roof frames.
Withdrawal Strength – in timbers of joint group JD4 (eg: dry radiata pine) or better, Foil Fix's withdrawal resistance is greater than that of the foil. This is due to the twisted nail profile which allows ready penetration into and excellent holding power in all timbers, from the softest to the hardest.
Tear Resistant Design – the special design of Foil Fix includes rounded and coined edges and a wide size (21mm) which greatly reduces the tendency of the foil to tear in windy conditions.
Ease of Use: Foil Fix is supplied in easy span-off sticks of 10 for fast, convenient and safe use on-site.
Installation
For application and design capacity information, refer to the Pryda Brackets & Fixes and Builder's Hardware Guide.
Pryda Foil Fix (21 x 21mm)
| Product Code | Size |
| --- | --- |
| SFF | 50 strips of 10 |