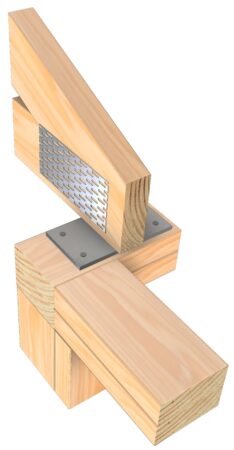 Avoid crushing of the timber wall plate at supports of heavily loaded timber trusses
Uses
Pryda Anti-Crush Plates are used to avoid crushing of the timber at supports of heavily loaded timber trusses on wall frames. They do this by increasing the width of the bearing and therefore the bearing capacity.
Features
EASY: Simple design.
FAST: Fixed with Pryda Connector Nails 35×3.15mm.
VERSATILE: Can improve bearing capacity for Prefabricated trusses or stick build components. Common applications are where girder trusses are supported on corner wall junctions and on internal supports.
Installation
For application and design capacity information, refer to the Pryda Brackets & Fixes and Builder's Hardware Guide.
Pryda Anti-Crush Plate 6.0mm
| Product Code | Size |
| --- | --- |
| ACP | 140 x 75mm x 6.0mm thick |