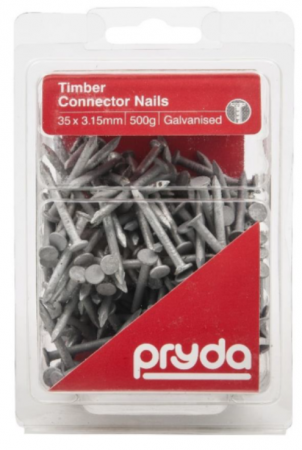 Make sure your connection is compliant
Uses
The Pryda Timber Connector Nail is specifically designed for fixing Pryda timber connectors. Where a Pryda product specifies a 35 x 3.15mm galvanised Pryda Timber Connector Nail, be sure to use the genuine product.
Features
One-piece design, stronger than regular clouts, as their heads may pop off under load.
Tapered head for greater strength.
All Pryda connectors specifying a Pryda Timber Connector Nail have design capacities are in accordance with test results or current, relevant Australian Standards and the Building Code of Australia.
Pryda products are structurally adequate provided they are designed, installed and used completely in accordance with the Pryda Timber Connector Nail (when specified).
Correct Installation: Installation of Pryda products must be strictly in accordance with the instructions in the relevant design guide.
Application
For application and design capacity information, refer to the relevant Pryda Design Guide.
Pryda Timber Connector Nails 35 x 3.15mm, Approx. 180 Nails per 500g Carton
| Product Code | Size |
| --- | --- |
| OSNGB | Galvanised 500g per pkt Cartons per outer: 10 Cardboard Packs |
| OSNGC/S | Galvanised 500g per pkt 5 Clamshell Packs |
| OSNG | Galvanised 1kg per pkt Cartons per outer: 10 Cardboard Packs |
| TPOSNG | Galvanised 5kg Trade Pk Cartons per outer: 1 Easy Seal Carton |
| OSNBCI/SS | Stainless Steel: 1 Easy Seal Pack |