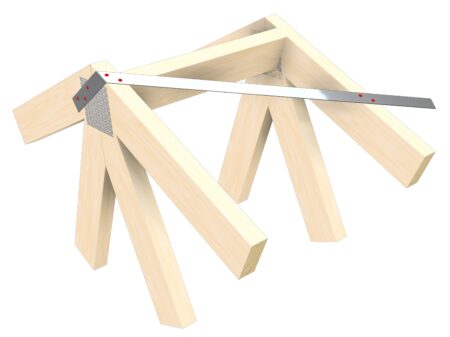 The quickest bracing option for roof trusses and walls
Uses
Pryda Speedbrace, used as diagonal roof bracing, provides overall stability to the trussed roof and in conjunction with the roof battens, prevents lateral buckling of the top chords. Pryda Speedbrace is also suitable for use as wall bracing.
Features
FAST: Doesn't require tensioning or notching.
EASY: Comes in a variety of lengths suited to common applications just position and fix.
STRONG: 1.0mm G300 steel for consistent strength.
Installation
For installation instructions for Wall, Roof and Floor Bracing, please refer to the Pryda Bracing Design Guide.
Pryda Speedbrace – 18.5 x 18.5 x 1.0mm
| Product Code | Size |
| --- | --- |
| SDB36 | 3.6m lengths |
| SDB40 | 4.0m lengths |
| SDB50 | 5.0m lengths |
| SDB60 | 6.0m lengths |
| SDB60/10 | 6.0m lengths |