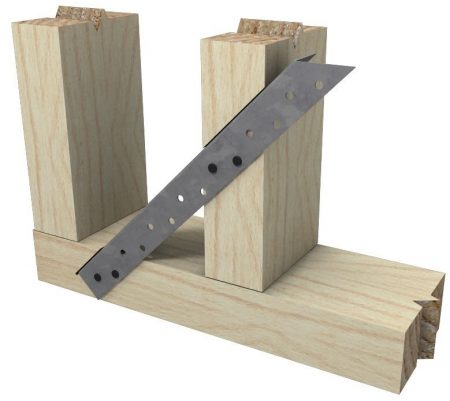 A fast, effective brace for timber frames
Uses
Pryda Mini Brace and Maxi Brace can be used as bracing or nogging of Type A Bracing Units in wall frames in accordance with AS1684-2010 Residential Timber-Framed Construction and the Wall Bracing Units Construction Guide.
Features
Pryda Angle Brace is the fast effective way to brace interior or exterior timber framing. It is fitted by making a single saw cut into the studs, inserting the brace, then nailing.
Because Pryda Angle Brace is power punched, it features clean, fully punched holes (no nails are bent or wasted by trying to force them through the brace).
Pryda Angle Brace utilises the tension and compression strength of steel with the properties of timber. It holds studs straighter, allows better air circulation and makes it easier to install wiring, plumbing and insulation.
Installation
For installation instructions, please refer to the Pryda Bracing Design Guide.
Pryda Maxi Brace – 20 x 18 x 1.2mm
| Product Code | Size |
| --- | --- |
| AB36 | 3.6m lengths |
| AB42 | 4.2m lengths |
| AB48 | 4.8m lengths |
Pryda Mini Brace – 18 x 16 x 1.2mm
| Product Code | Size |
| --- | --- |
| MB36 | 3.6m lengths |
| MB42 | 4.2m lengths |
| MB48 | 4.8m lengths |