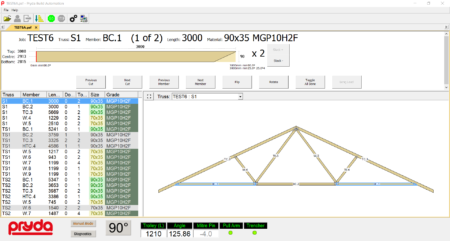 Truss and Frame equipment is built to last.  Sometimes the right choice is to put a new lease of life into a proven equipment choice, and Pryda has a software solution to ensure you can continue to drive productivity.
 
Pryda Build Automation (PBA) was developed in conjunction with fabricators to remove aging automation throughout their manufacturing facilities.
 
PBA allows equipment with outdated electrical componentry, along with obsolete Microsoft operating systems, to continue to drive productivity in a competitive market.

Key Benefits Include: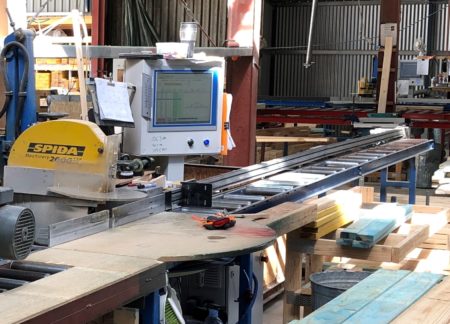 Touchscreen/Industrial PC
Windows 10 Operating System
Direct Feedback to Pryda's Production Manager software
Full diagnostics screen
Remote access and troubleshooting by Pryda Fabricator Equipment Technicians
Ability to mark Truss Boot locations on your bottom chord members
Ability to have multiple jobs open at once
Locally supplied and supported ongoing software upgrades
 PBA systems can be supplied in multiple configurations:

Where to use
Equipment
Automation upgrades for
Upgrade an existing system
Existing automated pull saw
– MangoTech automation
– Spida automation
– Fruit Bat automation
– Vector automation
Existing wall progressor system
– Spida Automation
– Mango Tech Automation
Pryda supplied new systems, using PBA
Saw configuration
– Angulation saws
– Docking saw
– Trenching saw / combination saw
– Manual plate marking system
Wall manufacturing
– Plate progressor system
– Nog cutting saw
– Sub component cutting system
With large volumes already sold in Australia and New Zealand, both in retrofits and new systems, the PBA package speaks for itself. But let's hear some comments from Fabricators who have adopted the PBA system.
 "The changeover installation was seamless; the software is stable and the employees using the saw are happy."

Mark Hull – MCM Frame and Truss
 "This software is a lot simpler to use. The manual cut is a lot more user-friendly as well overall a lot better set up"

Shaun Merrett – Dahlsens Ballarat
 "Accuracy of end stop and angulation is great, the drive system is great, robust and reliable"

Mark Pagram – JH Williams
Speak to your Pryda Representative for both a quotation and a PBA software demonstration
Posted on August 20, 2020