Yes, there is an easier way using Pryda FastFix™
Pryda FastFix™ is the home of an innovative range of screws making traditional, labour intensive connections a thing of the past.
Screws in the FastFix range have core elements to their DNA:
Speed of install is a given with smart screw tips giving a rapid start and reduced splitting, and a coarse thread significantly decreases driving
Laboratory tested to provide confidence in the connection capability
Partnering with Buildex, the latest thinking around screw design is always incorporated.
FastFix™ Pryda Screw
Versatile is the best way to describe the FastFix™ Pryda Screw. Available in 3 sizes, the range is used as a Stud to Wall Plate Connection, and the game changing Pryda SpeedTruss™ truss installation system.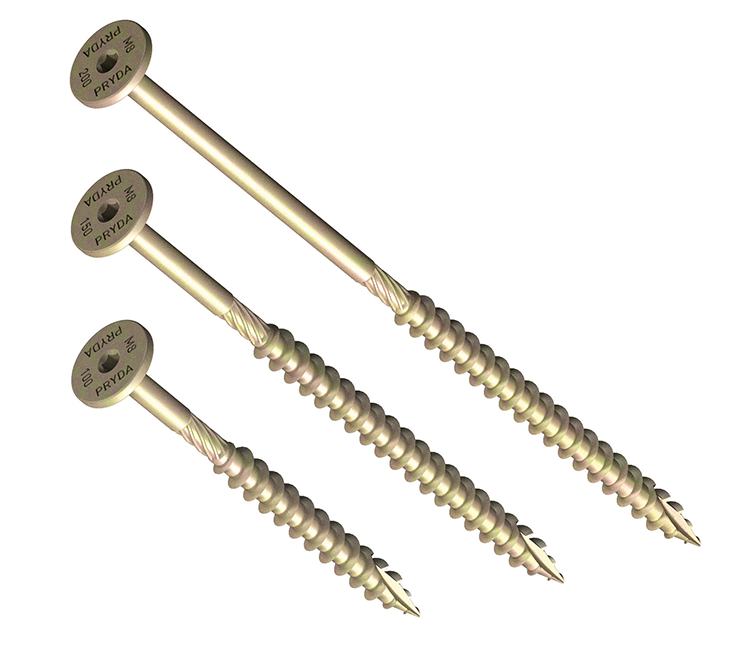 SMARTER DESIGN
Unique rapid start tip with a coarse thread, significantly decreasing drive time and reducing splitting
Pronounced knurl that lessens any splitting of the ends of wall plates
Standard 5mm hex drive which is readily available throughout Australia and New Zealand
A deeper drive recess to improve driver life span
PROVEN ENGINEERING
Pryda Screws have been laboratory tested offering compliance confidence
Use of the Pryda Screw with Pryda Design Software provides a Certified Design
Increased thread length to give greater capacity
EASIER IDENTIFICATION
All screws are head stamped to ensure quality and instant identification
Every application certified by "first principles" structural design software
The FastFix range is available exclusively from Pryda Frame and Truss manufacturers.
FastFix™ Internal Wall Screw
The FastFixTM Internal Wall Screw (IWS) takes the time and labour out of tedious L Bracket connections, and replaces it with smart thinking, saving you money with a fast, compliant connection.
Seeing an incorrectly installed L Bracket is a common sight, and Pryda's engineers wanted to find a way to get the right connection, but making the process faster and safer at the same time.
JUST PLAIN EASIER
Quicker, safer and more precise than a conventional hitch.
Reduces risk of working at heights as IWS can be installed from the underside of roof trusses.
By design, IWS cannot be over-driven.
One-piece fixing allows for simple and easy installation process.