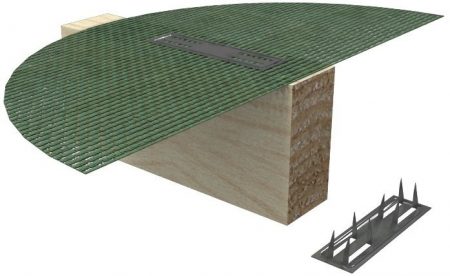 Non-tear fixing for foil insulation and shade cloth
Uses
Pryda Shade Fix has been especially developed for fixing woven and knitted shade cloth to timber framing.
Features
The plates feature a rounded coined edge, designed to eliminate tearing on sharp edges by holding the cloth firmly against the timber when pre-punched nails are driven home.
Pryda Shade Fix is manufactured in easy snap-off stick form (5 plates, each 50 x 13mm) for speed and safety during installation.
Pryda Shade Fix is available in either Standard Zinc/Galvanised, Green or Colourbond finish.
Installation
For application and design capacity information, refer to the Pryda Brackets & Fixes and Builder's Hardware Guide.
Shade Fix (50 x 13mm)
| Product Code | Colour |
| --- | --- |
| MPSFMZ | Shadefix – Zinc |
| MPSFMG | Shadefix – Green |