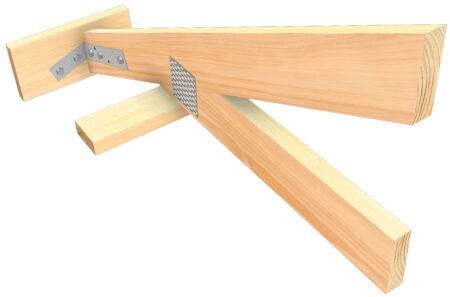 Special bracket for structural connection of verandas and pergolas to rafters or trusses at the fascia line
Uses
Special bracket for structural connection of verandas and pergolas to rafters or trusses at the fascia line.
Features
EASY: Simple and effective bracket to connect overhangs to fascia.
FAST: Pre-drilled bolt holes and nail holes for fast stencilling of fastener location to both overhang and fascia.
VERSATILE: Pre-bent flat to suit various roof pitches.
Installation
For application and design capacity information, refer to the Pryda Brackets & Fixes and Builder's Hardware Guide.
Pryda Fascia Support 2.0mm
| Product Code | Size |
| --- | --- |
| MPUFB | 110 x 300 x 50mm wide Fold at 90o (410mm length overall) |