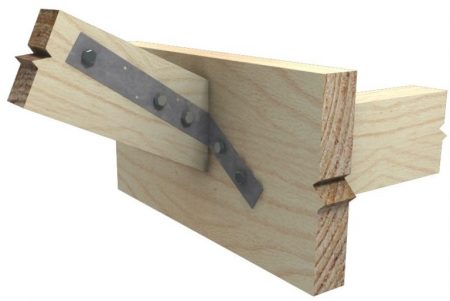 Reinforces connections of rafter or truss overhangs to support a carport or pergola
Uses
Special bracket for structural connection of verandas and pergolas to rafters or trusses at the fascia line.
Features
Verandas and pergolas usually support only a lightweight roofing or shade cloth, but occasionally they also support or resist:
(a) the weight of a worker and materials or tools carried (total design load = 110 kg)
(b) forces due to the uplift effect of wind – which can also be the equivalent of hundreds of kilograms, depending on the degree of exposure of the site and roof area supported.
By comparison, the design strength of two 2.8 mm nails into green softwood (such as Oregon) is only the equivalent of 44 kg (short term loading).
Pryda Fascia Supports overcome this problem by:
providing a strong fascia to rafter or truss connection, designed in accordance with AS1720.1 Timber Structures
meeting strength requirements for all common applications
being fast and easy to install with five M12 or ½ inch bolts, nuts and washers. Nail holes in the support facilitate preliminary fixing for positioning.
Installation
For application and design capacity information, refer to the Pryda Brackets & Fixes and Builder's Hardware Guide.
Pryda Fascia Support 2.0mm
| Product Code | Size |
| --- | --- |
| MPUFB | 110 x 300 x 50mm wide Fold at 90o (410mm length overall) |